Control an A.C Light Bulb over the Internet Using ESP8266 WiFi Module
In this article, we'll look at how to control the A.C bulb in your home over the internet using an ESP8266 WiFi module
You'll need the following items
Hardware
ESP8266 esp-01 WiFi module, get it here
FTDI USB-TTL converter, get it here
Jumper cables, get them here
5V DC/240V A.C 10A single channel relay, get it here
Software
Introducing the ESP8266 WiFi Module
The ESP8266 WiFi Module is SOC with TCP/IP protocol stack that can give any micro-controller access to your WiFi network. The module is capable of connecting to any WiFi network and can be used as an access point for other devices to connect to. The module is simply hooked to your Arduino and you get the same WiFi capability as any other WiFi shield such as The Arduino WiFi shield. AT commands can be used to instruct the module as it comes pre-programmed in its firmware. The ESP8266 module is an extremely cost effective board capable of carrying out simple and complex projects and with a huge, and ever growing, community. With a flash memory of 1MB The module can be used in your IOT (Internet Of Things) solutions.
Note: Operating voltage is 3.3v, do not exceed 3.3v. It is recommeded to get an external power supply as the Arduino 3.3v supplies just 25mA instead of 170mA required by the module .
IMPLEMENTATION
STEP 1: INSTALL REQUIRED LIBRARIES
Start your Arduino IDE
Go to File > Preferences and add the link http://arduino.esp8266.com/stable/package_esp8266com_index.json to the Additional Boards Manager URL.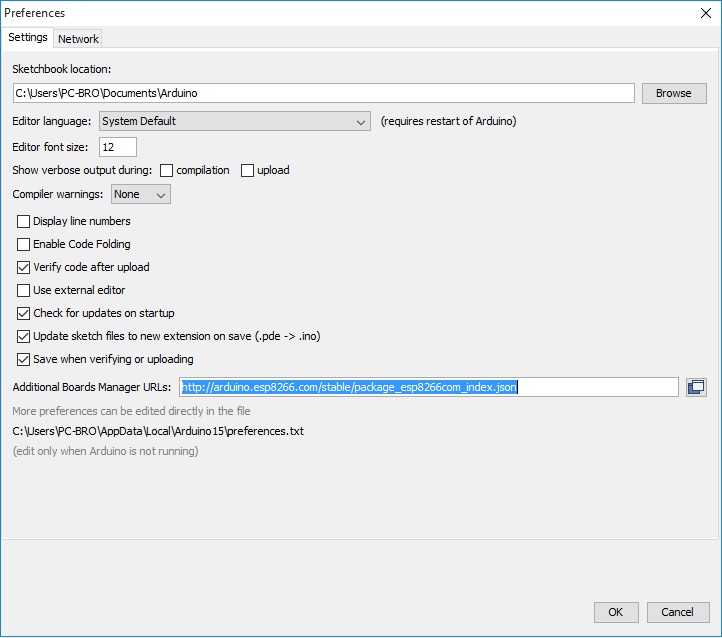 Go to Tools –> Board –> Boards manager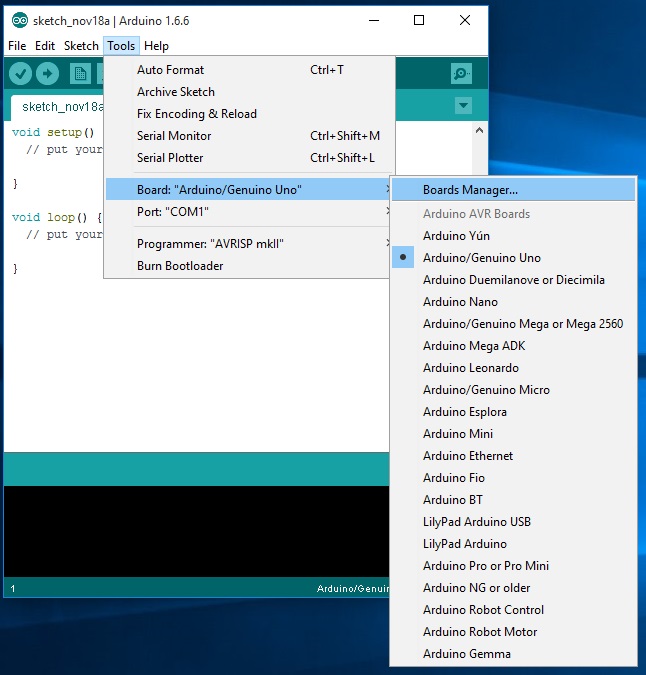 STEP 2: ESP8266 TO FTDI CIRCUIT CONNECTION
Restart your Arduino IDE
Now go to the File > Examples  > ESP8266WiFi menu and load the "WiFiWebServer" sketch into an editor window.
Replace the placeholders values in the script for "ssid" and "password" with the SSID and password for your WiFi network.
Then hit the upload button
RESULTS
If all goes well, you should see "Uploading.." and after a while "Done uploading…"
Now go ahead and open the Serial Monitor, remove the jumper between the GPIO_0 pin and GNDHowever if all is still going well you should see something like this,

Connecting to Wireless Network
.......
WiFi connected
Server started
192.168.1.224
which tells you that the board has connected to the network, and rather crucially, what the board's IP address ended up as when it negotiated its connection to the DHCP server.
Now you can just go to your browser and use the endpoint http://192.168.224/gpio/1 to pull GPIO_2 high, and turn the BULB on, or http://192.168.224/gpio/0 to pull GPIO_2 low, and turn the BULB off. If you're still connected to the Serial Console you should see something like this scroll by if you attempt to turn the LED on,
new client
GET /gpio/1 HTTP/1.1
Client disconnected
new client
GET /favicon.ico HTTP/1.1
invalid request
Here you can safely ignore the invalid request error message — that's just your browser asking for the icon that accompanies the web pages its retrieving, it doesn't necessarily expect a response.
Congratulations, you've learnt how to control the bulb in your home over the internet.
Wanna do more?
Build a movement detector and monitor the status from your web browser using the PIR motion sensor, get it here
Feel free to leave any comment. Thank you.